Tim's QUICK loading homepage
We have changed the theme of our page to correspond with the season!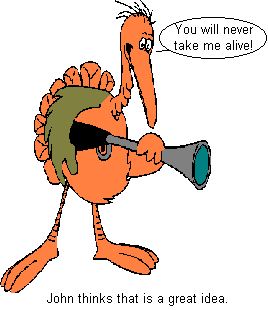 My name is Tim Entrup and I live in Quincy Illinois. As you can see from my first homepage pictures, my family and I enjoy traveling and water sports (this link takes you to our first homepage).
Besides computers and classes at Western Illinois University, I try to spend time following the stock market. Notice I said 'following' because I have not found a way to get ahead of it.

John, the co-author of this page, spends his school days at St. Francis, but on the weekends he follows NHL hockeyand NACAR racing. His favorite hockey team is the St. Louis Blues and stock car driver is Jeff Gordon. At the St. Francis bowl-a-thon, he won a hockey puck autographed by Tony Twist, number 18 of the Blues.

Follow this link and Laugh with Letterman to get in the Thanksgiving spirit.

Here are a couple of Thanksgiving links we ran across Sunday.
These four links have a wealth of information about the next holiday.
John and I both enjoy magic and the Hocus Pocus Palace has some cool on-line tricks you may want to check out if you are brave enough.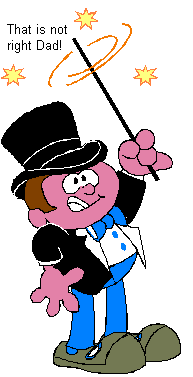 Follow this link to our Halloween page.

---
Looking for something or someone, give this a try! Phone numbers, maps, local businesses

---
To go back to Tim's newest homepage, follow this link.
To go back to RiverNet's homepage or to check out more RiverNet homepages click here.

Mail comments to : time@rnet.com….

Made 11-13-96, changed 12-31-96






Best experienced with


CLick Here to start.